Free room in roof insulation could save you £355 on your energy bills
Around a quarter of heat loss in a home is via a poorly insulated roof. With an ECO4 loft insulation grant you could save £330 per year on your energy bills.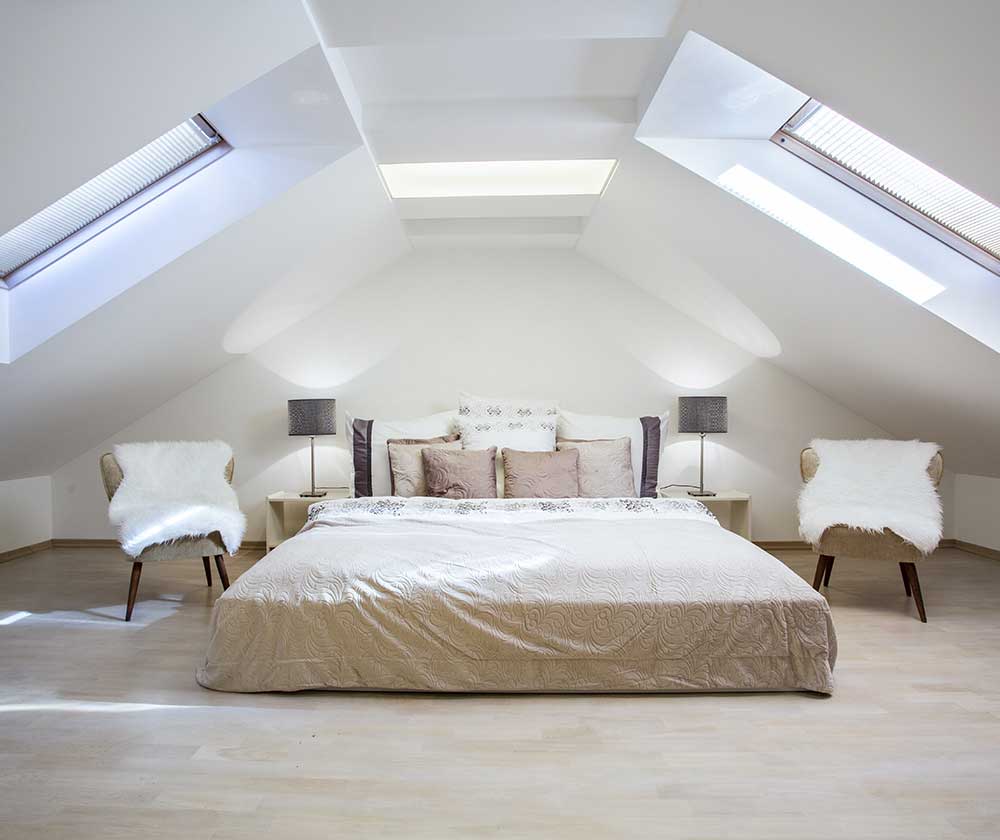 Why do I need room in roof insulation?
As heat rises, around 25% of the heat lost in your home escapes through the roof. One of the quickest and easiest ways to save money on your energy bills is to top up the insulation in your loft.
Many loft conversions and purpose built rooms in the roof completed prior to the 1990's were either poorly insulated or not insulated at all. The consequence of this being that many households find that the space is too cold in winter and too warm in summer.
According to the Energy Saving Trust, a gas heated semi-detached house with no insulation could save £355 on their heating bills per year.
As well as making your home warmer in the winter, room in roof insulation will also help keep your home cooler in the summer meaning that your room in roof will become more usable throughout the year.
What is Roof in Roof insulation?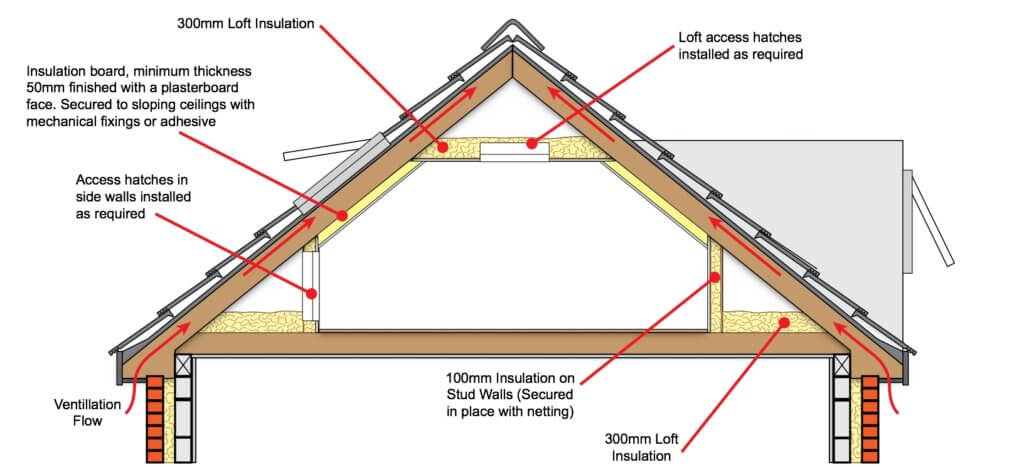 Room in roof insulation involves insulating all parts of the room with either mineral wool batts (similar to loft roll), loft insulation or rigid insulation boards.
An example of how these different elements can be insulated is shown above.
Not only could you save hundreds of pounds per year, but you will also reduce your carbon emissions. A typical semi-detached house would reduce carbon emissions by around 610kg per year.
Ventilation
When you install insulation you are reducing the amount of air that can circulate. Poor ventilation in a loft can lead to condensation forming which can cause mould and damp patches to appear on ceilings.
To ensure that this doesn't happen we will bring your homes ventilation up to the latest standards and install additional ventilation where required as part of the ECO4 grant.
Do I qualify for a free insulation grant?
To qualify for a free insulation grant, you (or your tenant if you are a landlord), must be in receipt of one of the benefits listed below:
I'm not receiving one of these benefits, can I be helped?
Up to 50% of energy efficiency measures installed in England, Wales and Scotland can be completed through the ECO4 Flex scheme and is for households whose combined gross income is below £31,000 per year or if you have certain health conditions which would make you vulnerable to the cold.
The ECO4 Flex scheme is administered by Local Authorities who are responsible for rolling it out in your area and they will verify your income or health eligibility. It is rolling out slowly and is expected to be fully live by April 2023.
We will check as part of your application if your area is now open for applications.
I'm a Landlord, can I get any help?
The Minimum Energy Efficiency Standards (MEES) came in to effect in April 2018 and means that all rented properties must now have a minimum energy efficiency rating of band 'E' unless exempted.
However, from 2025, all properties rented on new tenancies must meet a minimum energy efficiency rating of Band 'C' and properties with existing tenants must be brought up to this standard by 2028. Failure to do so could result in a fine of up to £30,000.
These changes are in line with the Government's net zero emissions by 2050 targets and will also apply to properties which are being sold from 2035.
How can we help?
If your tenant is receiving one of the benefits listed above your property will be eligible for a grant to improve your property, including installing room in roof insulation.
In fact, the ECO4 scheme says that all Band 'E' rated properties must reach a minimum Band 'C' after installation of energy efficiency measures.
Applying for your grant is as easy as 1, 2, 3…
1. Apply
Complete the online application form and we will contact you to check that you qualify for free insulation, heating upgrades or solar through either the ECO4 or ECO4 Flex scheme
2. Survey
Once we have confirmed that you qualify, we will arrange for one of our Retrofit Assessors to complete a free, no obligation survey which will provide you with an idea of how much energy you can save
3. Install
We will arrange the installation of your free home upgrades by one of our fully trained and accredited installers who will remove any waste and clear away any mess caused by the installation